The Lean reclining collection is a truly contemporary version of the classic recliner. It doesn't look like a recliner which is nice and it's got a modern shape with a buttoned effect in the back cushions. It's also mechanical, made in the UK and has some really remarkable features: it's seriously comfortable, it's easy to operate with two buttons (recline, sit up) and there's a battery option if you'd like it to be cable-less.
Perhaps the biggest difference to a classic recliner is the way it reclines - the clever mechanism pulls the moving section inward as it reclines. This means you only need 15cm behind the sofa/chair to fully recline. There is a choice of battery or mains operation. Opting for a battery means that you can put it in the middle of a room without the need for a cable. The batteries, sold separately, are charged from the mains and will last around 150 cycles which means even if you recline frequently, say 5 times a day, you'd only need to charge it maybe monthly, depending on size of the person reclining. The large sofa has two indpendent reclining sections - so two people can sit with one or both reclining. The armchair requires 1 battery. If you prefer the mains operation the cable is 3m long.
The headrests are independent and can be angled in different directions for individual comfort. Cushions are top stitched to keep the seams straight. Back cushions are made of foam and seat cushions are foam with a fibre wrap. The Lean has lovely, shapely arms and modern black steel legs but you can opt for a tapered wooden foot if you prefer in light oak or walnut.
Lead time
Approx. 16 weeks
Please note:
Batteries are sold separately.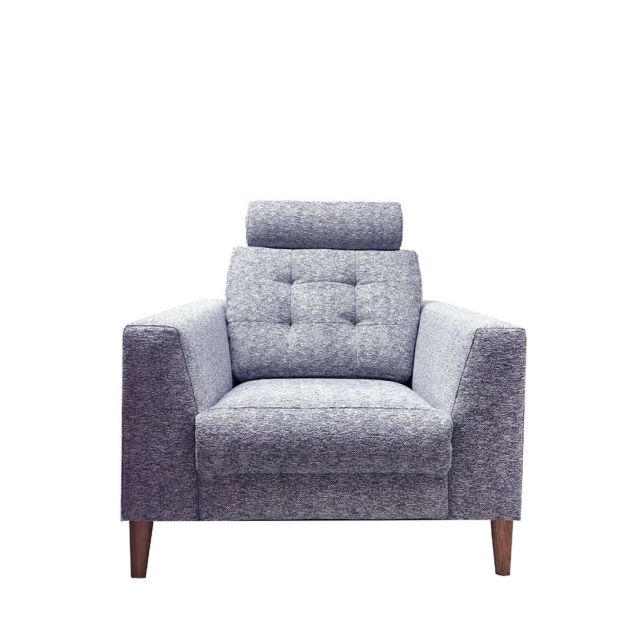 It's all in the detail
Size
W94x D99 x H100cm
Clearance

Please note:

Batteries are sold separately.

Assembly
Assembled on delivery
Dispatch
Made to order furniture delivered to you in Approx. 16 weeks.
Delivery
All our Furniture is a 2 man delivery with Assembly included
More Information
Furniture Care
We outline simple guidelines to keep your furniture looking great.
More Information
Need a little more help?
0207 160 6303
We love to talk all things furniture and help customers.