For more than 30 years, we've been passionate about creating the UK's finest quality furniture using solid materials, traditional techniques and contemporary designs. As an independent company, your custom is the most important aspect of our business.
We love furniture and interiors and we're passionate about provenance so we make virtually all of our furniture here in Europe. We're based in London and we proudly boast that we have the friendliest sales teams around.
We'll help plan your space, advise on colour or identify a special solution that works for you. Whether you are looking for a new dining table or fitting out a chain of restaurants we can provide a great personal service from selection to installation right through to caring for your furniture.
Kim Corbett, Founder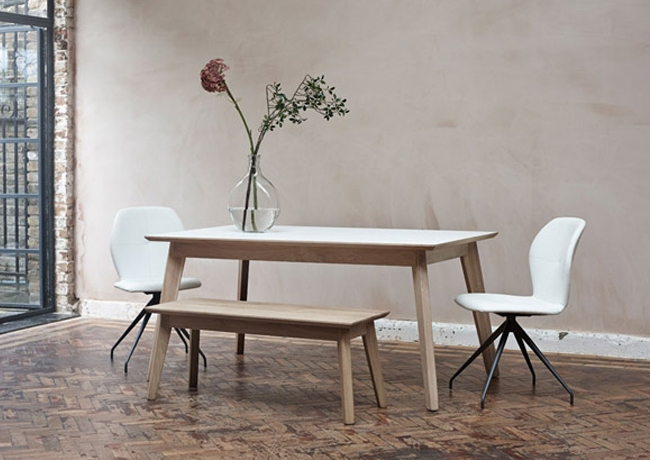 A creative home
We absolutely encourage you to inject personality into you living space so by all means customise! Whether you're a city slicker or an urban boho, make your home yours.
We promise to help you find the right pieces for your home that are beautiful, affordable and built to stand the test of time.
We aim to make the process simple and help you create a personal, happy home. Custom doesn't mean complicated.
Handmade quality
Our oak furniture is handmade from 100% solid wood. We try to avoid veneer because it often doesn't stand the wear and tear of contemporary life.
Many of our solid wood pieces can be made to measure so please ask us if you have a special requirements. Often we have different finish options which allow further customisations. Our upholstered furniture features Scandinavian design at great value and we have a massive range of fabrics in hundreds of colour options.
European design and quality
We're very proud of our family owned workshops throughout Europe. They allow us to make many pieces in the custom sizes that you want for your home.
Our close relationships mean that we can personally check workshop conditions and environmental standards. Our work in this area, in partnership with organisations like the Forest Stewardship Council, has won many Awards including the Guardian Sustainable Business awards.
Honest Materials
Making furniture from materials with integrity is just as important to us as who makes the furniture. We make most of our furniture in Europe so we can influence production methods and raw materials.
Our FSC certified bedroom range is designed and made exclusively for us in a wonderful workshop - watch the video to see how we transform the oak from the forest to a gorgeous piece from your home.
Our table makers create our exclusive dining tables so that we can make something special in the sizes you want without great extra cost. Look for our 'magic' extension mechanism on our extending dining tables.