A velvet sofa will add luxury and glamour to your home. With the soft, rich texture of velvet creating a living space that you won't want to leave. And, if you truly want to stand out, a bespoke velvet sofa is a fierce way to demonstrate your own unique and inspirational style.
Our beautiful velvet sofas are as distinctive as you are. With a stunning range of designs, sizes, colours and fabrics to choose from, you can create a luxury velvet sofa that will stand out and fit into your home.
While looks are essential, the beauty of our modern velvet sofas is more than skin deep. Built to last, most of our frames are FSC certified and many have the option of standard foam and fibre cushions for a more tailored look or a lux foam and feather combination cushion. What's more, because we know that you want to lounge in luxury as soon as possible, our handcrafted velvet sofas can be made in around eight weeks. Contact our friendly team today or pop into one of our showrooms to view our beautiful range of luxury velvet sofas.
Our Popular Velvet Sofa Ranges
Our modern velvet sofa range boasts 38 unique designs and a generous variety of fabric options and configurations. Whether you're searching for a 2 seater velvet sofa, 3 seater velvet sofa or velvet corner sofa, the possibilities are endless with Adventures in Furniture.
Do you love opulent traditional designs with a vintage feel? Or does modern Japanese meet your personal flair? Maybe you long for an ultra-contemporary sofa for that sought-after Nordic look? As comfortable as they are beautiful, creating your custom modern velvet sofa is simple.
Pick your perfect style. Find a hue that suits you. And choose those little customisations that make all the difference. Then, once you are completely happy, leave it to us to create your perfect velvet sofa, personalised to your tastes.
Why Choose a Velvet Sofa?
Different sofa fabrics have different qualities. And there is an option to suit every interior, lifestyle and personality. But, when it comes to adding drama, warmth and elegance, nothing beats velvet.
Super snuggly and always in style, velvet has long been a popular choice for furniture upholstery. Velvet provides a soft, lavish surface, and it looks exquisite – whatever the light. And, of course, velvet has much more depth and generates far more stimulation than flat cotton or linen fabrics.
But more than this, a velvet sofa is also strong and durable. Most of our velvet sofas have an FSC certified frame and handcrafted to the highest standards in our UK & European workshops. So you can enjoy your statement piece for years to come.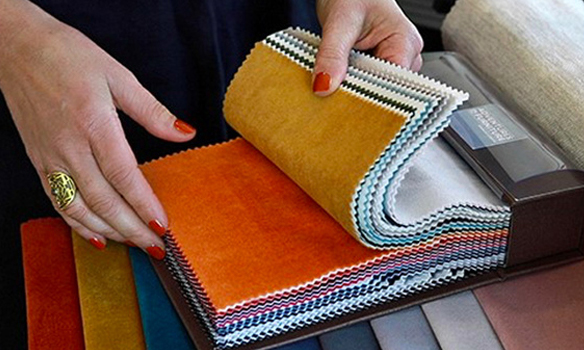 Velvet Sofa Colour Options
When it comes to your dream sofa, colour is just as important as style. And, the truth is, any colour looks ravishing when in velvet.
Perhaps you yearn for a deliciously dark interior. Maybe you crave strikingly vibrant colours to match your personality. It could be that you long for light, soft, and calming pastels. Or, perhaps you covet neutral, soothing colours that will add real hygge to your home. To help tell your story, each of our velvet fabrics comes with a generous selection of colour options for you to choose from, including many shades of grey, blue, black, yellow and green.
Red and green velvet sofas look particularly indulgent against dark blue walls. Soft pinks and classic greys work beautifully in neutral spaces. While mustard is a smart way to add colour, depth and interest. Anything goes when it comes to creating a sofa that works for you and your home. And, whatever tone you desire for your living space, we've got the perfect colour for you.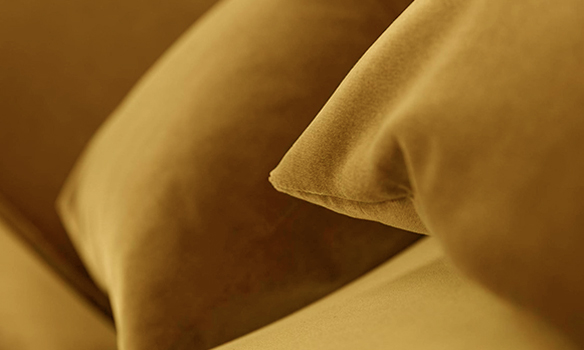 Smooth & Textured Velvet Sofas
Contemporary yet classic, a velvet sofa offers extremely comfortable lounging. At the same time, the quality of our craftsmanship ensures all the support you need. But, with so many configurations to choose from, choosing the right upholstery for your made-to-order velvet sofa can be tricky.
Alongside our gorgeous velvets we have some beautiful crushed velvety and chenilles that will add character and catch the light in attractive ways. Our team of design specialists will help find the right fabric for you. And, whether you select a calm or vibrant look, you can design a timeless and stylish velvet sofa for you and your loved ones to enjoy.
Modern Velvet Sofas For All Spaces
Versatility is key with Adventures in Furniture. All of our velvet sofas are available in a range of size configurations to suit your exact requirements. From snuggly 2 seater velvet sofas through to lounge-worthy velvet corner sofas, we have you covered.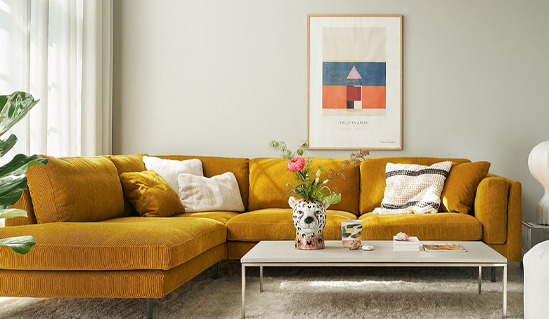 2 Seater Velvet Sofas
A velvet sofa doesn't have to be huge to make a big impression. For smaller spaces, our 2-seater velvet sofas will add immediate impact, while making the most of your space. Cosy and compact, we'll help you create the perfect place to relax.
Shop 2 seater sofas
3 Seater Velvet Sofas
A 3-seater velvet sofa will be the centrepiece of any space. Attention-grabbing and elegant, 3-seater velvet sofas are a decadent way to make a statement. From classic designs to sophisticated modern styles, we'll help you find your perfect match.
Shop 3 seater sofas
Velvet Corner Sofas
A corner velvet sofa will be the centrepiece of any space. Attention-grabbing and elegant, 3-seater velvet sofas are a decadent way to make a statement. From classic designs to sophisticated modern styles, and a wide selection of colour options, including the popular blue velvet corner sofa and grey velvet corner sofa, you'll find your perfect velvet sofa right here with us.
Shop velvet corner sofas
Unique Velvet Fabric Options
We have four velvet fabric options available across our gorgeous range of sofas. Each fabric comes with a variety of colour options covering bold, neural, sedate and pastel shades.
Cotton Velvet Sofas
Our 100% cotton velvet sofas are super durable, rich in tone and lusciously soft. As strong as they are beautiful, cotton velvet is a seductively sumptuous material that is perfect for that thick pile look and feel. Also known as velveteen, nothing says luxury quite like a cotton velvet sofa.
Classic Velvet Sofas
Our 100% polyester velvet comes in a stunning range of vivid colours - from deep reds to jet blacks and invigorating lime greens. With a slightly shorter pile than cotton velvet, our high-quality synthetic velvet is exceptionally durable. It's also resistant to marks and stains, making it perfect for family living, without losing out on style.
Malibu Velvet Sofas
Made from 67% polyester and 33% cotton, our Malibu Velvet Sofas offer a striking colour palette with a minimalistic vibe. With an exquisite range of pastel colours and a sumptuously soft feel, Malibu Velvet is perfect for trend-setters seeking that sought-after Scandi style.
Bellis Aquaclean Velvet Sofas
A hugely popular choice, our Aquaclean velvet is made using the latest technology. So, it's easy to get rid of any household stains with just water. A true benchmark in the world of interior design, Aquaclean velvets come in a range of vibrant colours, as well as some more muted tones. So, there is an option for every personality and lifestyle.