Your sofa is an essential part of your home. The place where you relax, socialise, and unwind at the end of a long day, if you are looking to upgrade to a new lounging spot, you simply can't beat a 3 seater velvet sofa.
An unsurpassed fabric favourite, velvet exudes luxury with a soft, tactile feel that adds comfort and sumptuousness to your home. So you'll never want to leave. And with a stunning range of colours and over 30 sofa designs available, you can be sure that we have the perfect 3 seater velvet sofa for you.
Even better, our made-to-order 3 seater velvet sofas can be produced in around eight weeks. Just for you in your unique requirements - fabric, colour, foot, cushion - a truly custom velvet sofa made for you.
OUR POPULAR VELVET SOFA RANGES
Velvet is such a popular fabric choice that all Adventures in Furniture sofas now come with velvet fabric options. So the possibilities are endless.
We have a generous variety of fabrics and colours, and plenty of sofa styles to choose from. What's more, many of our 3 seater velvet sofas have the option of standard foam and fibre cushions for a more tailored look or a lux foam and feather combination cushion.
As comfortable as they are beautiful, creating your custom modern velvet sofa is simple. And, because we want you to enjoy your sofa for many years to come, our velvet range includes the latest fabric options – many of which are capable of standing up to tough stains, spills and the knocks of everyday life.
Handmade 3 Seater Velvet Sofas
Constructed using ethical and sustainable materials – including FSC certified timber wherever possible – and handcrafted in our UK & European workshops, our 3 seater velvet sofas are built to last. And, because our handmade velvet sofas are crafted to the highest of standards, you can be confident that we will provide excellence from start to finish.
Strong and durable, our Bellis Aquaclean velvet is super resilient and a true benchmark in the world of interior design. Our 100% cotton velvet sofas are durable, rich in tone and lusciously soft. Our polyester velvet sofas are perfect for family life, without losing out on style. And, our Malibu Velvet is wonderful if you want to combine exquisite colours and a sumptuously soft feel.
Grey Velvet 3 Seater Sofa
Grey is a fashionable choice for discerning homeowners and interior designers. Both super-chic and timeless, from dark inky greys to soft neutral tones, we can help you to create a stunning grey velvet 3 seater sofa in a look, feel and style that suits you.
If you like to keep things fresh, grey pairs perfectly with almost every other colour. So, you can regularly update the ambience of your room without having to change your sofa. A grey 3 seater velvet sofa will also work beautifully in neutral spaces, especially when paired with dusky pinks, lush navy blue and ochre.
But grey also has its own unique feel. And, depending on the shade you choose, you can use a grey 3 seater velvet sofa to inspire a calm and soothing atmosphere or a vivid and vibrant aesthetic.
Green Velvet 3 Seater Sofa
Green is not only glorious; it is also super on-trend. Creating a sense of calm and serenity, or vibrancy and verve, whatever shade you covet for your green 3 seater velvet sofa, we've got the perfect fabric for you.
Complementing creamy, neutral tones exquisitely, a 3 seater green velvet sofa can be the centrepiece you need to inspire an authentic, natural vibe. Especially when paired with other super-soft fabrics and lots of lovely green foliage. A green 3 seater velvet sofa also adds a splash of interest to that uber-stylish industrial vibe.
Alternatively, a deep emerald velvet sofa can be used with other jewel-colours such as pink, plum, crimson and mustard to establish a stunningly dark, decadent vibe that is both bold and exceptionally beautiful.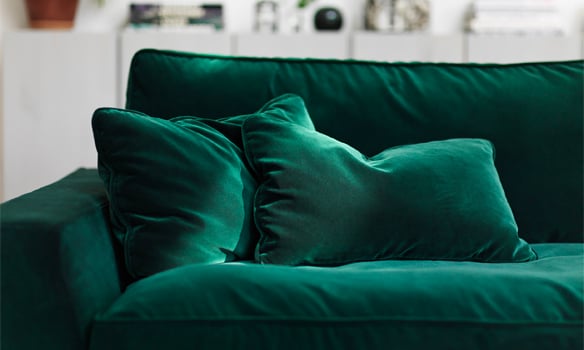 Blue Velvet 3 Seater Sofa
Blue is a trend that never goes out of style. And, whether you crave deep dark indigo, classic navy, or a soft duck egg - blue always looks gorgeous in velvet. You simply can't go wrong when choosing a blue velvet 3 seater sofa.
To create a calm vibe, neutral blues can be used to create a sophisticated, soothing living space. Very light shades of blue can also make a room seem bigger. On the other hand, sumptuous royal blues can add colour and drama to neutral living areas, while you can use blue to make a room feel cooler and calmer.
But a blue velvet 3 seater sofa doesn't have to feel muted. Deep, lavish velvet blue also works alongside other bold jewel colours to inspire a strikingly warm and decadent aesthetic. So, regardless of the visual you yearn for, we have a 3 seater blue velvet sofa in a hue to suit you.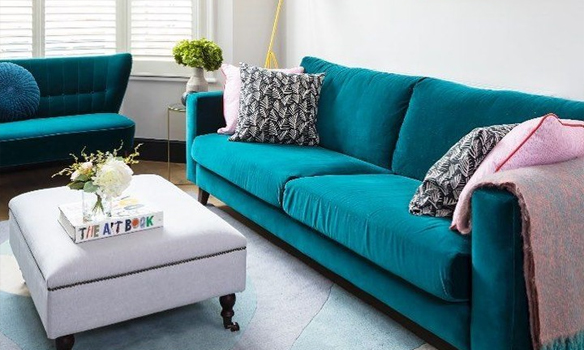 Yellow Velvet 3 Seater Sofa
Our 3 seater yellow velvet sofas will add immediate impact while giving you the perfect place to relax. Attention-grabbing and elegant, from classic designs to sophisticated modern styles, we'll help you find your perfect match.
Wonderfully warm in the summer, whilst remaining perfectly cosy in the cool winter months, yellow is a bold choice that adds a burst of brightness. But no two yellows are the same. A subdued saffron velvet sofa will bring a little sunshine and warmth into your home, while a darker mustard yellow will feel warm and extravagant.
Perhaps you love paired-back Scandi style. Or maybe you yearn for a darker and more atmospheric interior trend. Offering a soft, lavish surface that always looks exquisite, creating your custom 3 seater yellow velvet sofa is simple with Adventures in Furniture.