The world is changing. It is up to all of us, as businesses and citizens, to reassess the impact we are having on the environment with a new sense of urgency. We are proud that over the years Adventures in Furniture has played an award-winning role in considering environmental impacts. But we too need to raise our game to address new challenges. We are constantly assessing our contribution to any New Green Deal restructuring of the economy.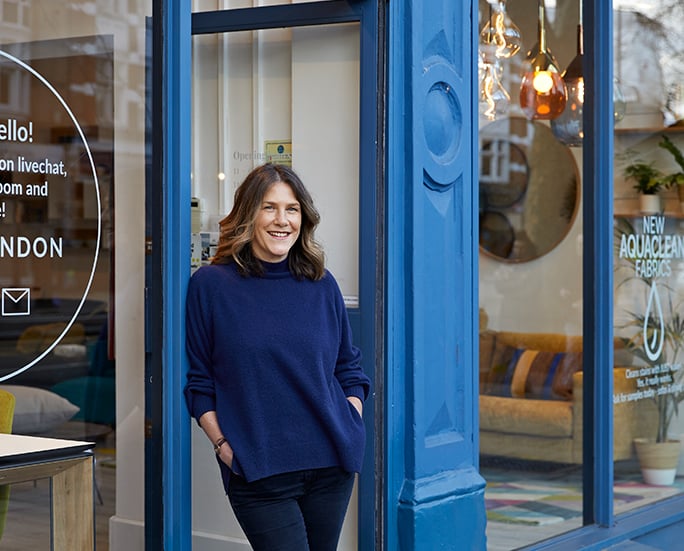 Ethos
Before we even begin to consider the environmental detail of our business, we stress the importance of making furniture that will last for generations. This is a statement of environmental responsibility. We then try to add a layer of transparency, explaining to customers how their furniture is made and what environmental impact is caused by the process. Finally, we delve into the improvements we can make in areas such as raw materials, production, packaging and transportation. Our focus is on carefully considered design with many custom options, handmade quality and beautiful, responsible materials. We are very proud of our workshops and friendly staff - great products and people are what make us special. Together we can rise to the environmental challenges that we all now face.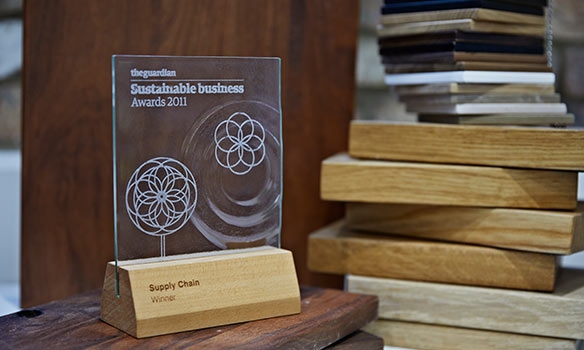 Awards
We're very proud of our family-owned workshops throughout Europe. They allow us to make many pieces in the custom sizes that you want for your home. Our close relationship means that we can personally check workshop conditions and environmental standards. Our work in this area, in partnership with organisations like the Forest Stewardship Council, has won many awards including the Guardian Sustainable Business award.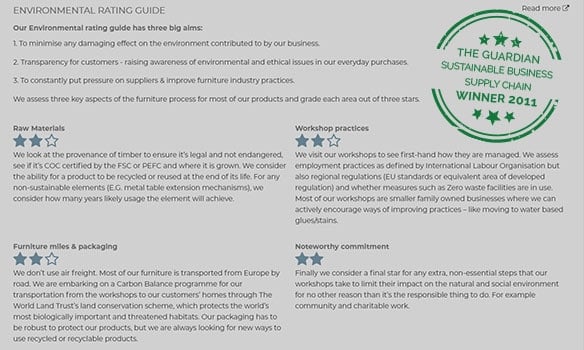 Environmental Rating Guide
In 2006, as part of our wider commitment to becoming a more sustainable business, we developed an environmental grading system for our wood furniture. Each piece had a 'star' grade. The grade was a summary of three criteria: wood source, workshop practices & transportation distances. This system was developed solely to provide transparency to our customers. What was borne out of a desire to learn and share information about raw materials evolved and we won several awards for our pioneering approach. Massive credit must be paid to Felicity Lawrence, author of the book "Not on the Label" which exposed nasty practices in the food industry. This book was the catalyst for our desire to 'put it on a label'. So, we did.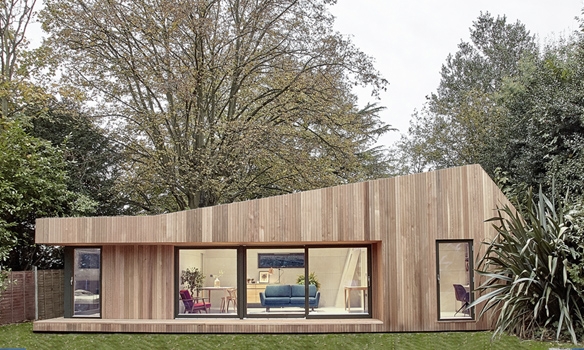 The Guide Today
Fast forward to today where sustainability is a mainstream buzzword, and the climate crisis is a deadly serious issue that is often tarnished by greenwash - blatant marketing exploitation of token 'green' efforts. It is necessary for us all to redouble our efforts. So, we revamped our grading system to better reflect issues of packaging, recycling, chemical usage, energy information and waste. You can find the information on our website products on the tab 'Environmental rating guide' and on the products in our shops.
Carbon Balancing
Carbon offsetting is a process whereby an individual or company takes action to prevent the release of emissions elsewhere or secures the absorption of atmospheric carbon dioxide. We work with the World Land Trust because their approach is through impactful conservation projects. We offset the emissions generated from transporting your furniture from where it was made right to your door.
Please check out the World Land Trust – they have gorgeous content and a super simple carbon calculator.