Velvet is taking over when it comes to interior design trends. But, while a cushion or throw can add a splash of glamour, if you truly want to stand out, a beautiful velvet sofa is the best way to make a statement. At the same time, when it comes to this luxurious material, you don't need to go big to express your unique and inspirational style. At Adventures in Furniture, our popular 2 seater velvet sofas will add immediate impact, while making the most of your space.
Cosy and compact, with a 2 seater velvet sofa, we'll help you to create the perfect place to relax. And, with a generous range of opulent colours and fabrics to choose from, it's easy to see why velvet has become such a popular fabric choice amongst our customers.
Even better, many of our 2 seater velvet sofa frames are FSC certified and all sofas are handcrafted to the very highest standards in our UK & European workshops.
Perfectly suited to both minimalist and maximalist design tastes, our stunning made-to-order 2 seater velvet sofas can be produced in around eight weeks.
OUR POPULAR VELVET SOFA RANGES
Nothing adds luxury and glamour to your home like velvet. But velvet hasn't just become an increasingly popular sofa fabric because of interior design trends. Today, you can have a 2 seater velvet sofa that is both life-proof and beautiful. The latest velvets really do stand up to most stains, spills, and wear and tear.
At Adventures in Furniture, we offer four velvet fabric options to choose from, including our very popular Aquaclean material, and a generous variety of colour options and sofa designs. In fact, this luxurious material is so popular that all our sofas now come with velvet fabric options.
Take your pick from over 35 gorgeous designs, available in a range of sizes and custom options. The opportunities are endless.
Unrivalled Velvet Fabric Options
Strong and durable, our Bellis Aquaclean velvet is made using the latest technology. So, it's easy to get rid of any household stains with just water. It is a true benchmark in the world of interior design.
We also offer 100% cotton velvet sofas which are super durable, rich in tone and lusciously soft, as well as 100% polyester velvet which is perfect for family life, without sacrificing style. Or, if you are seeking an exquisite range of pastel colours and a sumptuously soft feel, our Malibu Velvet is perfect for you.
With a choice of vibrant colours to more muted tones, you can be as daring as you like. There really is an option for every personality and lifestyle.
Blue Velvet 2 Seater Sofa
When designing your dream 2 seater velvet sofa, colour is just as important as style. Blue looks simply ravishing in velvet and we have a generous range for you to choose from.
For people who love to be bold, a deep, sumptuous royal blue will go perfectly in a deliciously dark interior. Pair it with greens, mustards, reds, purples and other bold jewel colours to create a strikingly vibrant aesthetic. And, if you are seeking a more calming vibe, soft, neutral blues work perfectly in contemporary homes to create a sophisticated, soothing living space.
A classic that never goes out of trend, blue velvet seamlessly combines with pretty much any style that you can think of. And, when it comes to 2 seater blue velvet sofas, we have a hue to suit you.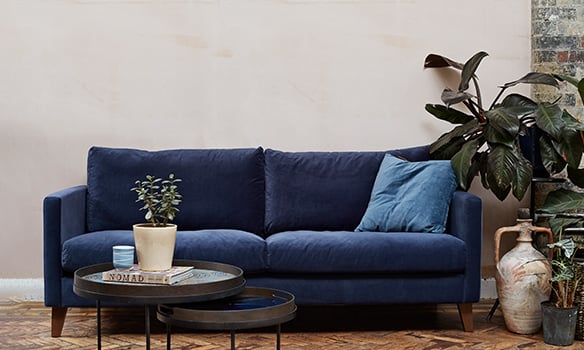 Green Velvet 2 Seater Sofa
Deep and velvety, delicious green is ridiculously fashionable right now. The perfect shade for any home, green complements creamy, neutral tones exquisitely. And, if you are looking to add a pop of colour, a 2-seater green velvet sofa is a perfect way to do it.
Beautiful and rich, green velvet can make a big impact. Especially when you pair it with colours such as mustard and yellow. A green 2 seater velvet sofa also looks indulgent against dark blue walls. However, if you remain uncertain our friendly interior designs can point you in the right direction.
A colour that always offers a sense of calm and serenity, whatever tone you desire for your green 2-seater velvet sofa, from olive to emerald, we've got the perfect shade for you.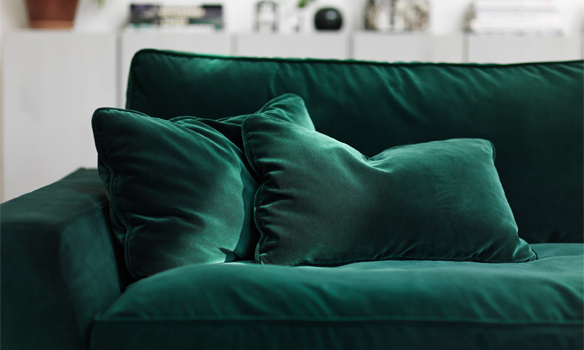 Grey Velvet 2 Seater Sofa
Super chic and modern, grey continues to be a popular colour option for many families. Both on-trend and timeless, grey doesn't just pair perfectly with almost every other colour; it also has its own unique feel.
A 2 seater grey velvet sofa will work beautifully in neutral spaces, while offering much more depth and generating far more stimulation than flat cotton or linen fabrics in a similar shade. And depending on the hue you choose, you can create a calm and soothing vibe or a vivid and vibrant aesthetic.
Perhaps you want to add drama to your décor, without going over the top, or maybe you want a neutral tone so that you can regularly update the feel of your room without having to change your sofa. Our range of grey velvets can be used to create a modern look and feel for your home.
Yellow Velvet 2 Seater Sofa
An on-trend yellow velvet sofa is a smart way to add colour, depth and interest to any room. And, glorious mustards and yellows work just as well in maximalist schemes as they do in paired-back industrial or Scandi settings.
A striking yellow velvet sofa can brighten a grey or neutral scheme while adding warmth and complexity. A 2 seater yellow velvet sofa is also ideal if you want to make a statement without the danger of overwhelming a space. On the other hand, the deep shade of saffron mustard will perfectly match your inky scheme if you prefer a darker and more atmospheric interior trend.
Offering a soft, lavish surface, that looks exquisite whatever the light, whether you seek a calm or vibrant look, our team of design specialists will find the right yellow velvet fabric for you. Then we will help you to design a timeless and stylish yellow velvet sofa for you to enjoy for years to come.