Blue velvet sofas are extremely on-trend. With 11 shades of blue available - including bright jewel blue, deep indigo, timeless navy, exuberant turquoise, decadent midnight blue and calm light blues - you're sure to find your next velvet sofa with us.
It's true that blue velvet remains a popular choice amongst our customers. Perhaps because blue velvet sofas look gorgeous, whatever the light. And, it carries more depth and generates far more stimulation when compared to other fabric options. So, while opting for a blue velvet sofa might seem daunting, this super-snuggly fabric has never really been out of style.
We also understand that you want a sofa that is uniquely you. So, we encourage you to customise all the finer details to reflect your personality and living space. All our blue velvet sofas are customisable, with many options such as legs, armrests, fabrics and cushions that can be tailored to your exact tastes and living space.
Designed to last the test of time, most of our blue velvet sofa frames are FSC certified. They are also carefully handcrafted to the very highest standards in our UK & European workshops. Also, our sofas are constructed with the very best materials and ethically sourced wherever possible. Once ordered, your stunning blue velvet sofa can be produced in around eight weeks.
OUR POPULAR VELVET SOFA RANGES
At Adventures in Furniture, if you have a blue velvet sofa on your mind, we'll find just the right tone for you. And, because your velvet sofa must work for your lifestyle as well as your taste, we'll also help you pick the most suitable fabric. From sumptuous 100% cotton velvet to the latest durable options, we guarantee that you'll be inspired.
Seeking that sought-after Scandi style? Then our Blade sofa could be the one for you. While if comfort is your thing, the super deep and sumptuous Brooklyn might be your perfect match. Alternatively, the Bryce provides a higher level of comfort. Looking for an ultra-contemporary feel? The Tahoe sofa in blue velvet has clean lines and all the cosiness you need.
What's more, whether you want a show stopping velvet corner sofa, or a more compact model, we have a huge range of blue velvet sofas to choose from.
Handmade Blue Velvet Sofas
Our modern blue velvet sofa range can be tailored with fabric and colour options to meet your exact needs and preferences. Whatever your heart desires, we ensure you find the precise shade and feel for your blue velvet sofa. But we don't stop there.
Passionate about designing the perfect sofa for you, we also have a stunning range of modern designs, configurations and sizes to choose from. So, we'll build you a beautiful blue velvet sofa that is as unique as you are.
And, with a range of customisable elements such as choosing a walnut, oak or metal leg finish. at Adventures in Furniture, every single detail is carefully selected by you.
Blue Velvet 2 Seater Sofas
When designing your dream 2-seater velvet sofa, we'll help to add immediate wow-factor, while making the most of your space. Because, with a range of opulent hues and velvets to choose from, a 2-seater blue velvet sofa punches above its weight when it comes to making an impression.
A timeless classic that never goes out of fashion, blue velvet is nothing short of ravishing. And at Adventures in Furniture, we'll create you a blue velvet 2-seater sofa to match any style that you can think of.
Whether you want a sumptuous midnight blue for a deliciously dark interior, an indigo-navy blue to add a splash of drama and decadence to a monochromatic space, or a soft, light blue that will create a sophisticated, soothing living space, our blue velvets are suited to both minimalist and maximalist design tastes.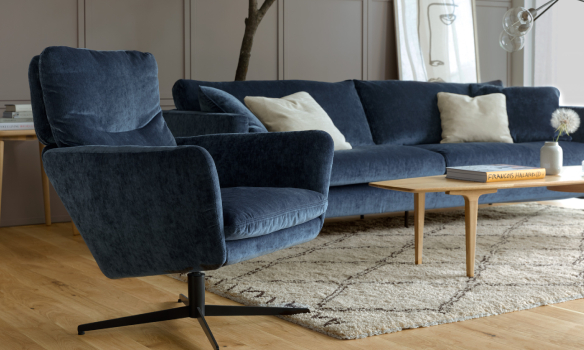 Blue Velvet Corner Sofas
To make your living space look great, and to ensure the ultimate in relaxation, you need the right sofa. Offering a classic, stylish touch, a blue velvet corner sofa will certainly add impact while being the perfect place to sit back and unwind. And of course, blue always looks gorgeous in velvet.
With deep dark indigos to soft neutral pastels and striking midnight blues, we have a shade to suit you. Beautiful pale blues can even make a room seem bigger while a midnight or navy-blue velvet corner sofa will look warm and sumptuous.
From bright blues that will create a feeling of decadence, to soft blues that feel calm and light, simply tell us what makes your heart beat faster and what vibe you are trying to create, and we'll talk you through your blue velvet colour and fabric options.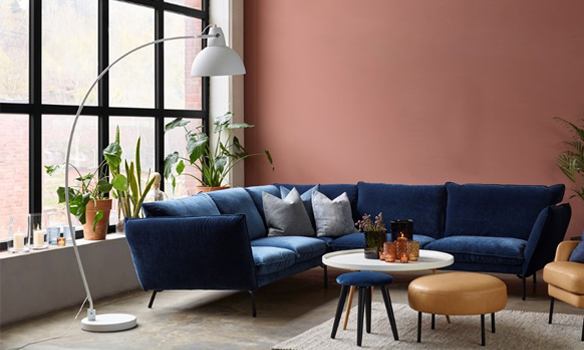 Navy Bue Velvet Sofas
A navy-blue sofa is an undoubted classic. A versatile colour which works well with other shades, against a neutral background, or as an accent colour, you can't go wrong with navy.
But, if you dare to be different and pair navy with velvet, you will make a true statement in your living room. Place your navy-blue sofa against whitewashed walls or painted floorboards for a soothing, calming vibe. Pair it with greens, mustards, reds, purples and other bold jewel colours to create a strikingly vibrant aesthetic. Or, combine your navy-blue velvet sofa with industrial-style accessories for a bold modern look.
Elegant, cosy and enduring, opting for a navy-blue velvet sofa is guaranteed to make an impact.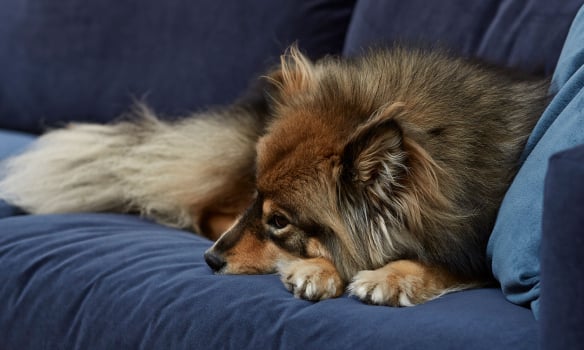 Dark Blue Velvet Sofas
Dark blues such as midnight blue and indigo are gloriously exquisite when paired with velvet. So if you truly want the ultimate in style and glamour, a dark blue velvet sofa is hard to beat.
But the combination of blue and velvet is more than just gorgeous (although it absolutely is!). Our contemporary dark blue velvet sofas can be custom made using one of our extremely durable velvet fabrics. So, you can create a stunning dark blue velvet sofa that is strong, snuggly and delightful to look at.
Oozing luxury, with a soft, tactile feel, if you are looking for a custom-made dark blue velvet sofa that exceeds your expectations, you've come to the right place.