Everyone wants a comfy space to sit back and unwind - whether at the end of the day or over a long, lazy weekend. And if you are looking for the ultimate in relaxation, you've come to the right place. At Adventures in Furniture, our velvet corner sofas are as sumptuous as they are comfy; making them the perfect place to snuggle up or stretch out.
Creating a truly comfortable and inviting home, our stunning velvet corner sofas will help you to switch off from the hustle and bustle of everyday life. Many of our velvet corner sofa frames are FSC certified, and all are built using the highest quality craftsmanship; so you can be sure that they are built-to-last. But it's the lavishness of velvet that really sets them apart.
Simply oozing luxury, with a soft, tactile feel, all our velvet corner sofas come in a generous range of colours and designs. So whether you want the perfect sofa for your family or a stylish place to entertain guests (or a bit of both), we've got it covered.
Our made-to-order velvet corner sofas can be constructed in around eight weeks. So you can sink in and stretch out as soon as possible.
VELVET CORNER Sofas, HANDMADE For You
All Adventures in Furniture corner sofas now come with velvet fabric options. This includes our strong and durable Bellis Aquaclean velvet, lusciously soft 100% cotton velvet, polyester velvet which is perfect for family life, and our exquisite Malibu Velvet.
Each velvet fabric also comes in a stunning array of colours, and many of our corner velvet sofa designs have the option of standard foam and fibre cushions for a more tailored look, or a lux foam and feather combination cushion.
Relaxing, stylish and utterly beautiful, our velvet corner sofas make every day better.
Bespoke Velvet Corner Sofas
Do you love opulent, decadent designs? Perhaps you prefer a traditional corner sofa with a timeless appeal? Or is modern Japanese, industrial chic, or that sought-after Scandi style more your vibe? Whatever your heart craves, at Adventures in Furniture we'll create it for you.
And, once you have picked the right fabric, colour and design, we'll also help you to customise all those little elements that really make all the difference. From cushion types to leg finishes, we make sure you are completely satisfied.
Just as important, our skilled craftsmen create each corner sofa with care and precision, using only the finest quality materials. So you can be confident that your bespoke velvet corner sofa will last for years to come.
Velvet Corner Sofa Fabric Options
A velvet corner sofa offers extremely comfortable lounging. But, with so many configurations to choose from, choosing the right velvet sofa fabric for your made-to-order corner velvet sofa can be tricky. That's where we come in.
With a range of gorgeous velvets available, our team of interior design specialists will find the right fabric for you. There really is an option for every personality, lifestyle and taste.
Also, each of our stylish velvet fabrics comes in a variety of colour options covering bold, neutral, sedate and pastel shades. So, whether you want a serene or dramatic look, we'll help you to design a gorgeous velvet corner sofa for you and your loved ones to enjoy for years to come.
Blue Velvet Corner Sofa
To make your living space really look great, you need the right sofa. And, the colour and material you choose matters. Offering a classic, stylish touch, a blue velvet corner sofa will certainly add impact.
From deep dark indigos to soft neutral pastels, when it comes to blue, we have a hue to suit you. Simply tell us what you like, and what aesthetic you are trying to create, and we'll talk you through your blue velvet fabric options.
Blue always looks gorgeous in velvet, and the shade you choose can create a feeling of decadence, calm, vibrancy or lightness. Beautiful pale shades of blue can even make a room seem larger while a navy-blue velvet corner sofa will add warmth and sophistication.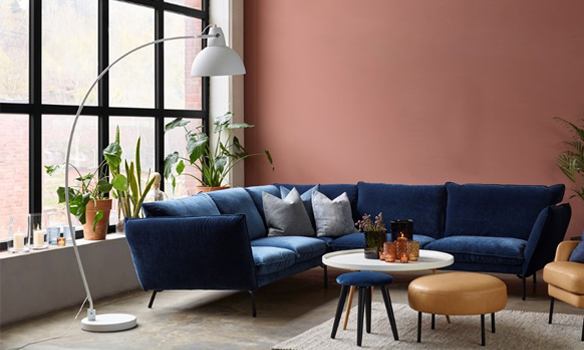 Grey Velvet Corner Sofa
When it comes to velvet corner sofas, grey is utterly timeless. A neutral, strikingly elegant colour, grey really does go with anything. This makes grey the perfect choice for your corner sofa, as it will seamlessly blend in without dominating your living space.
Grey velvet is also super sophisticated, which makes it a popular option for your velvet corner sofa if you want to bring in an air of elegance to your home. And, because grey has its own unique feel, you can use a grey velvet corner sofa to create either a calm or vibrant aesthetic.
Crucially, grey comes to life when used as a tactile velvet, so this will make your corner sofa even more irresistible. Especially when you pair it with complementary colours such as royal blue, fennel green and blush pink.
Green Velvet Corner Sofa
Green is gloriously vibrant. One of the freshest and chicest colours, this daring sofa shade is undeniably stylish and very on-trend. And when you pair it with velvet, the result is utterly luscious, both in texture and good looks.
What's more, our modern-day velvet fabrics include some extremely durable options. So, for a statement piece of furniture that is robust, bold and beautiful, a green velvet corner sofa really is perfect.
Decidedly bold, lush, and irrefutably sensual, if you want to make an impact, you need a green velvet corner sofa in your life. And, whether you go for a modern olive or a deep emerald velvet, you'll never look back.