At Adventures in Furniture, we want you to find the sofa of your dreams. Green velvet is huge in interior design right now. And with 10 shades of green across 4 premium velvet fabric options to choose from, you're sure to find your next green velvet sofa right here with us.
Perhaps you love striking jade and emerald green. Or maybe you lust after a dark green to create a deliciously rich aesthetic. It could be that you desire a light, soft, olive-green to add sophistication to your home. Or perhaps you crave a greeny-blue turquoise velvet sofa to add a splash of colour and fun. Whatever your preference, we'll find the right tone for you.
We'll also ensure you select the most suitable fabric. Our seductively sumptuous 100% cotton velvet creates a thick pile look and feel. Our durable polyester velvet comes in a stunning range of vivid colours. Malibu velvet offers a striking colour palette with a minimalistic vibe. And, a hugely popular choice, our Aquaclean velvet is made using the latest technology, so it's easy to get rid of any household stains with just water. It's about finding the right green velvet sofa fabric for your personality, lifestyle and home.
Most of our green velvet sofa frames are FSC certified and all are handcrafted to the highest standards throughout our UK & European workshops. Importantly, all of our sofas are created using the best materials and provide uncompromised levels of comfort. And, because we know you don't want to wait, your stunning made-to-order green velvet sofa can be produced in around eight weeks.
OUR POPULAR VELVET SOFA RANGES
All of our green velvet sofas are customisable. With many options such as legs, armrests and cushions that can be tailored to your taste and space.
The ultra-modern Blade sofa is perfect for trend-setters seeking that sought-after Scandi style. The Baltimore comes in a variety of sizes and shapes, including corner options - making it the ideal place to relax. Inspired by 1970's design, the Bryce provides a higher level of comfort. While the Tahoe sofa has clean lines and a contemporary feel with no compromise on cosiness.
Our modern green velvet sofa range also comes with several fabric and colour options to meet your exact needs and preferences. Do you want a neutral, light or dark green velvet sofa? Do you have the space for a show stopping velvet corner sofa, or do you want a smaller, cosier model? We'll ask the right questions to ensure that you enjoy your stylish green velvet sofa for years to come.
Whatever your preferences, we'll work with you to create a stunning green velvet sofa.
Emerald Green Velvet Sofas
Emerald green is gloriously vibrant. And when you pair it with velvet, the combination is simply gorgeous.
One of the chicest colours around, this sofa shade is undeniably stylish and very on-trend. But you don't have to worry about that changing. Jewel tones such as emerald green will always be classic. So, when you match the deep green emerald with soft and luxurious velvet, you'll create an elegant, timeless sofa that is enduring as it is striking.
What's more, as well as being the perfect focal point in any room, a lavish emerald velvet sofa also pairs exquisitely with other jewel tones, or with striking metallics such as copper, brass and gold. So you can create a truly luxurious feel.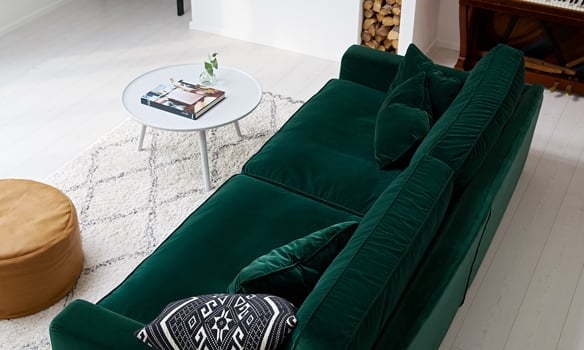 Green Velvet 2 Seater Sofas
At Adventures in Furniture, our 2 seater green velvet sofas add immediate wow-factor, while making the most of your space.
A 2 seater green velvet sofa is cosy, compact, and perfectly suited to both minimalist and maximalist design tastes. Even better, you can have a 2 seater green velvet sofa that is both beautiful and hard-wearing. Indeed, our green velvet fabric options really do stand up to most stains and spills.
With a range of opulent greens and velvets to choose from, a 2 seater green velvet sofa doesn't have to be huge to make a big impression. Bold, lush, and sensual, if you want to make a statement, whether you go for a modern olive or a deep emerald velvet, you won't regret it.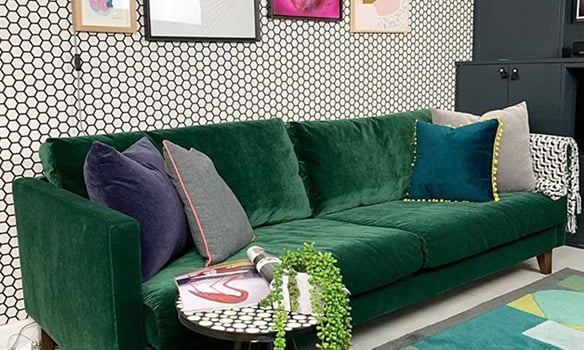 Handcrafted Velvet Sofas
Green looks ravishing when in velvet. So if you truly want the ultimate in style and glamour, a deep green luxurious velvet sofa is a trend that is here to stay.
With a stunning range of modern designs and various sizes available, including 2 seater, 3 seater and corner sofas, our beautiful green velvet sofas are as individual as you are. Whatever your heart desires, we have a generous selection of green velvet options for you to choose from.
Find your perfect style, select a green velvet that suits you, and decide on all those little customisations that make all the difference. Then, leave it to us to create your perfect green velvet sofa. It really is that easy.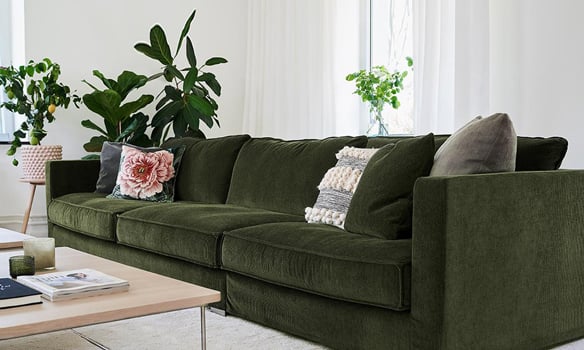 Green Velvet Corner Sofas
If you are looking for the ultimate in relaxation, you've come to the right place. Oozing luxury, with a soft, tactile feel, our green velvet corner sofas are the perfect place to sit back and unwind. And, because they are as beautiful as they are sumptuous, our green velvet corner sofas make every day better.
Whether you want to relax at the end of the day, or fancy lounging about in luxury over a lazy weekend, our green velvet corner sofas help you to escape the commotion of everyday life.
What's more, our contemporary velvet fabrics include several extremely durable options. So, for a statement piece of furniture that is strong, snuggly and beautiful, a green velvet corner sofa is just perfect.