At Adventures in Furniture, we know how beautiful a grey velvet sofa can be. And, with 15 shades of grey across four velvet fabric options, we'll help you find the velvet sofa of your dreams.
A neutral, wonderfully elegant colour, grey is more dramatic than white but softer than black. So it really does go with anything. Accentuating your walls and furnishings without dominating, with grey velvet, you can also refresh the mood of your room, without having to change your sofa.
Of course, grey doesn't mean bland. And we know that you don't want a sofa that looks like everyone else's. Perhaps you love a dark and moody grey. Or maybe you could be seeking a light, soft grey to add sophistication to your home. Whatever your heart desires, we'll find the right shade of grey velvet for your sofa.
The majority of our modern grey velvet sofas are FSC certified, and all are handcrafted to the highest standards in our UK & European workshops. Our sofa designs are also constructed using the very best materials and ethically sourced wherever possible. And, because we know you don't want to wait, your stunning made-to-order grey velvet sofa can be produced in around eight weeks.
OUR POPULAR VELVET SOFA RANGES
Whether you want a wow-factor corner sofa, or a smaller, cosier model, all our grey velvet sofas are inspiring and practical. And with over 40 beautiful sofa designs to choose from, you really do have plenty of choice with Adventures in Furniture.
The ultra-modern Blade sofa in grey velvet is perfect for trend-setters seeking that popular Nordic vibe. Influenced by 1970's design, the Bryce provides a higher level of relaxation. Our Tahoe sofa has clean lines and a contemporary feel with no compromise on comfort. And, the Baltimore comes in a variety of sizes and shapes, including corner options. The Angel looks especially sumptuous in soft grey velvet, while sofas don't get deeper than the Brooklyn, making it the perfect lounger and great for afternoon naps.
Whatever style suits you, we'll provide the perfect place to relax.
Bespoke Velvet Sofas
Handcrafted and built to last, all our grey velvet sofas are customisable. Legs, armrests and cushions can be tailored to your taste, and with a variety of sizes and shapes to choose from, your furniture will suit you and your space.
Our contemporary grey velvet sofas come in a range of premium fabric options, from the super-soft to the ultra-durable. You can also customise all those elements that make the difference such as choosing a walnut, oak or metal leg finish.
We always make sure you are completely happy with the fabric, colour, design, and finishes. And ultimately every single detail is carefully selected by you.
Grey Velvet 2 Seater Sofas
Modern and super chic, grey is a popular interior design choice. Not least because grey is capable of being hugely on-trend, while never going out of fashion. Furthermore, grey adds drama to your décor, without going over the top.
A 2 seater grey velvet sofa will work beautifully in neutral spaces, while generating far more depth and stimulation than flat grey cotton or linen fabrics.
Importantly, grey doesn't just pair perfectly with almost every other colour; it also has its own unique feel. And with a wide range of grey velvet shades to choose from, we'll help you to create a calm and soothing vibe or a vivid and vibrant aesthetic. Anything goes, and our collection of grey velvets can be used to create a look, feel, and style that suits you.
Grey Velvet 3 Seater Sofas
A fabric favourite, velvet exudes luxury with a soft, tactile feel that adds comfort and sumptuousness to your home. And, when paired with one of the smartest colours around, you can be sure that your grey 3 seater velvet sofa will be both comfortable and beautiful.
If you are looking to upgrade to a new luxe lounging spot, you simply can't beat grey velvet. What's more, a grey velvet 3-seater sofa from Adventures in Furniture also works beautifully when paired with pinks, lush navy blue and ochre.
Of course, as well as being super sophisticated, our contemporary velvet fabrics include several extremely durable options. As a result, you'll enjoy a lasting piece of furniture that is adaptable, comfortable, and exquisite.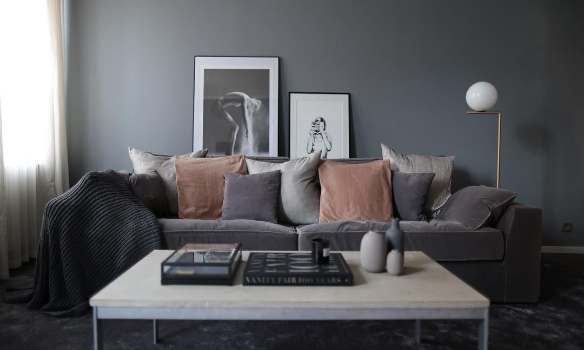 Grey Velvet Corner Sofas
Our made-to-order corner sofas are available in many styles, shapes and sizes. From left-hand corner sofas to right-hand corner sofas, we offer the perfect setting to snuggle up and unwind whatever the day of the week.
Super sophisticated and oozing luxury, grey is the perfect colour if you want an air of elegance in your home. And, because grey is beautifully neutral, you can use a grey velvet corner sofa to create either a calm or vibrant aesthetic.
Strong, snuggly and gorgeous to look at, grey comes to life when used as a tactile velvet; especially when you pair it with complementary colours such as royal blue, blush pink, and fennel green. So, from Scandinavian greys to inky shades and bold almost-blacks, your grey corner velvet sofa will be simply irresistible.
Dark Grey Velvet Sofas
Dark grey looks delicious in velvet. So if you truly want the ultimate in style and glamour, a deep dark inky grey velvet sofa is an absolute must.
Adding luxury to your home, darker, charcoal grey sofas are ideal for creating a contrast. So you can emphasize the focal point of your space and generate visual interest. At the same time, deep dark grey velvets also create an enveloping cosy space. In fact, charcoals can make a room feel wonderfully moody and atmospheric.
Of course, if you prefer, lighter grey sofas and warm mink shades can also be used to provide a beautifully neutral tone to your home. With 15 shades of grey across four velvet fabric options, we'll help you find a hue that suits you.