A real statement piece, a grey velvet corner sofa is a popular option that always remains on-trend. With 15 shades of grey across four premium velvet fabric selections, and over 35 sofa designs available with a corner option, we'll help you find a grey velvet corner sofa that is as distinct as you are.
A delightfully sophisticated colour, the neutrality of grey means that it goes with anything. And, if you invest in a grey velvet corner sofa, you can use colour as an accent on your walls and furnishings without having to commit to a shade long-term. So you can refresh the appearance of your living area as often as you want. Mix grey with gorgeous greens in spring to keep things looking fresh, and rich reds in winter to warm things up. The possibilities are endless.
Perfectly practical and extremely comfortable, we'll design your grey velvet corner sofa around you and your home. All of our corner sofas are made-to-order and can be produced in around eight weeks.
Reasons To Choose Velvet
Velvet sofas are always on-trend. But while opting for velvet might seem daunting, this super-snuggly fabric has never been out of style.
A fierce way to demonstrate your personality, grey velvet corner sofas can be dark and bold, or light and soft. And, regardless of the tone, the rich, creamy texture is instantly cosy. What's more, velvet looks gorgeous whatever the light. And, it has much more depth and generates far more stimulation than flat cotton or linen fabrics.
Even better, velvet is difficult to snag, even if you live with children and pets. And modern velvets are not prone to fading or staining. Indeed, our Aqua Clean velvet is stain-resistant, making it a practical and inspiring sofa fabric choice.
Bespoke Velvet Corner Sofas
Our contemporary grey velvet corner sofas come in a range of premium fabric options, from the super-soft to the ultra-durable. And, as well as choosing the perfect grey velvet fabric, you can customise your corner sofa even further.
Our grey velvet corner sofas come in many styles, sizes, and shapes. We can tailor legs, armrests and cushions to your taste. And, with a variety of configurations to choose from, we make sure that your furniture suits you and your home.
You can also customise all those little elements that really make all the difference such as choosing a walnut, oak or metal leg finish. Ultimately, at Adventures in Furniture, every single detail is carefully selected by you.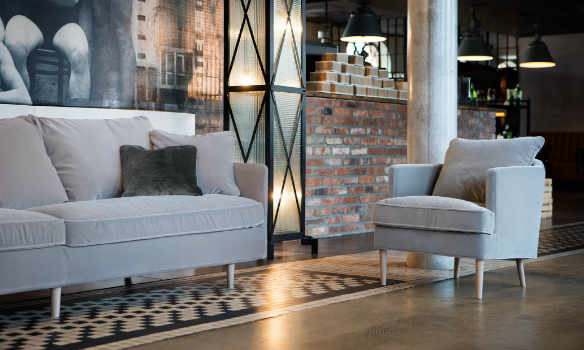 Grey Velvet Colour Options
More dramatic than white but softer than black, with 15 shades of grey to choose from, we have a hue to suit you.
Slate grey fabrics look warm and inviting when paired with wood furniture accents and natural textiles. Deep grey velvets gently cocoon and relax. While cool greys work perfectly with geometrics and splashes of colour for a modern vibe. Alternatively, dark grey velvets are deliciously decadent and add a real touch of warmth to modern industrial rooms.
Super sophisticated, grey is also the perfect colour if you want an atmosphere of elegance in your home. And, because it is exquisitely neutral, a grey velvet corner sofa can be used to inspire either a calm or vibrant aesthetic. The choice is completely up to you.
Sustainable Velvet Corner Sofas
With sustainability at the heart of everything we do, many of our modern grey velvet corner sofas are FSC certified, and all are handcrafted to the highest standards in our UK and European workshops.
As well as ensuring that our designs are made with the best materials and ethically sourced wherever possible, we also assess all our business processes to reduce our impact on the environment.
The bottom line is you won't find cheap disposable velvet sofas here. Instead, we use quality craftsmanship, innovative designs and sustainable materials to build furniture that stands the test of time. Ultimately, we lead by example and never stop trying to create better furniture pieces for our customers.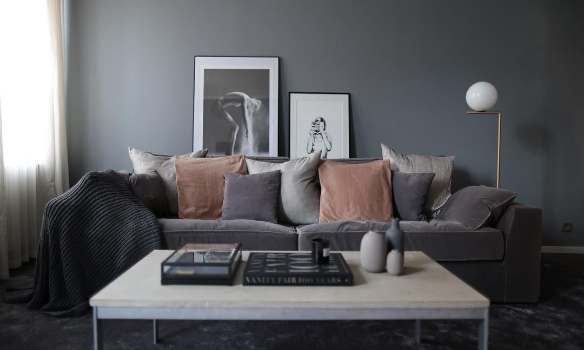 Easy Clean Velvet Corner Sofas
From Scandinavian greys to inky shades and bold almost-blacks, your grey corner velvet sofa will be simply irresistible. But we also care about practicalities, so, as well as being beautiful, your grey velvet corner sofa must stand up to the reality of day-to-day-life.
The good news is, with our premium easy to clean velvet fabrics, your sofa will just need a quick vacuum once a week to keep looking as good as new. And it's easy to get rid of any household stains with just water, so you never have to worry about damaging your sofa with more rigorous cleaning.
As a result, you'll enjoy a stunning piece of furniture that is adaptable, practical, comfortable, and exquisite. And which fits perfectly into your home.