Everyone wants the perfect place to relax - whether over a lazy weekend or at the end of a busy day. And, for the ultimate in relaxation, nothing beats a velvet corner sofa. What's more, when you add a stunning blue velvet fabric to the mix, you really do get the ultimate in comfort, style & appearance..
At Adventures in Furniture, we want you to find the blue velvet corner sofa of your dreams. And, with 11 shades of blue – including light blue, navy blue, midnight blue and turquoise - across four velvet fabric options, we've got you covered.
Even better, the majority of our 40+ sofa designs come with numerous corner options, so we'll help you design a blue velvet corner sofa that is as distinct as you are. We simply won't give you a blue velvet corner sofa that looks just like everyone else's. Also, because your sofa is created around you, it will be perfectly practical when it comes to your home.
All of our sofas are made-to-order and handcrafted using the very best materials. Once ordered, your new blue velvet corner sofa can be produced in around 8 weeks.
Why Choose Blue Velvet?
From calm, soft blues to deep indigos, exuberant turquoises and rich midnight blues, velvet looks gorgeous. And a blue velvet corner sofa is sure to be an Instagram sensation whatever hue you choose.
Perhaps because blue velvet looks gorgeous, whatever the light, or maybe it is because it has more depth and generates more pleasure than cotton, linen and leather. Regardless of the reason, blue velvet sofas are incredibly on-trend.
But it's not about style over substance. Modern velvet fabrics are not prone to fading or staining. And, because there are no loose threads, it is almost impossible to snag. Our Aqua Clean velvet is also superbly stain resistant. So a blue velvet corner sofa really is a sensible and inspirational choice.
Bespoke Velvet Corner Sofas
Our modern blue velvet corner sofas come in a variety of quality fabric options, from the soft and sumptuous to the ultra-durable. But when it comes to creating a sofa that is as unique as you are, the possibilities don't stop and start at fabric.
Our corner sofas come in a plethora of shapes, styles and sizes. And, with a variety of configurations to choose from, we make sure that your furniture suits you and fits perfectly into your home. You can even tailor the legs, armrests and cushions to your taste. For instance, you can choose a walnut, oak or metal leg finish.
At Adventures in Furniture, you can pick all those little elements that make a difference, and you carefully select every single detail for your new blue velvet corner sofa.
Blue Velvet Fabric Options
With so many options available, choosing the right upholstery for your blue velvet corner sofa can be tricky.
Our 100% cotton velvet sofas are super durable, rich in tone and lusciously soft. Our high-quality synthetic velvet is perfect for family living, without losing out on style. Made from 67% polyester and 33% cotton, our Malibu Velvet Sofas have a sumptuously soft feel, while our Aquaclean velvet is a real benchmark in the world of interior design.
There is an option for every personality and lifestyle. And we make sure you are thrilled with the shape, size, fabric, shade, design, and finish of your blue velvet corner sofa.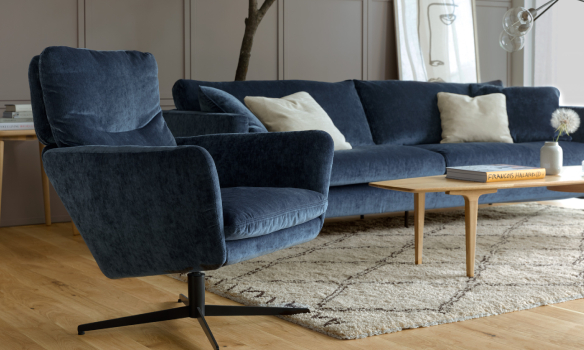 Blue Velvet Colour Options
Blue velvet corner sofas have never been out of style. But today, there are more colour options than ever before.
With deep dark indigos to gentle pastels and striking midnight blues, we have a shade to suit you. Soft pale blues will make a room seem larger, while a midnight blue velvet corner sofa will look both inviting and lavish. Elegant, cosy and enduring, opting for a navy-blue velvet corner sofa is guaranteed to make an impact.
From bright blues that will add a splash of colour and depth, to quiet, understated blues that make a room feel calm and light, a blue velvet corner sofa from Adventures in Furniture is nothing short of gorgeous.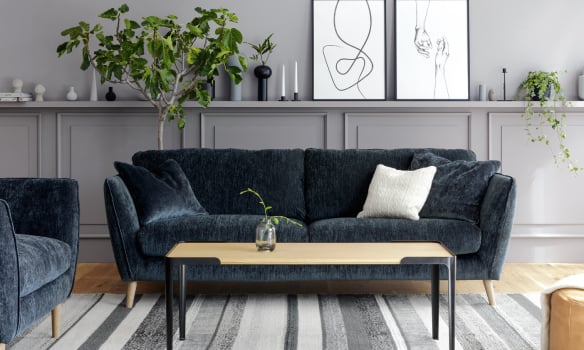 Sustainable Velvet Corner Sofas
Designed to last a lifetime, many of our sofa frames are FSC certified and all are handcrafted to the highest standards in our UK and European workshops. Our sofas are carefully produced using the highest quality materials and ethically sourced wherever possible.
Furthermore, because sustainability is at the heart of our business, we also assess all our business processes to reduce our impact on the environment. And, because they are built using the highest quality craftsmanship, you can be sure that our blue velvet corner sofas are supportive, sturdy and made to last. You won't find cheap disposable furniture here.
Our approach means less waste and less packaging all round. Ultimately, we are committed to producing better quality furniture for our customers.