8 Seater Extending Dining Table
If you love to entertain, a large dining table is a must. But finding the space for a real statement piece can be tricky. Our beautiful 8 seat extending dining tables are the perfect solution. Creating extra space, as and when you need it, our extendable options provide room for informal family-style eating, or more elegant and elaborate table settings. And, with comfort just as important as visual appeal, because of our unique roll-out leg system, nobody is ever left struggling for space.
With straightforward and functional mechanisms, our extending dining tables open effortlessly, with no visible lines or splits in the tabletop before opening. Designed with family gatherings and dinner parties in mind, our extending dining tables can also be folded away for a more intimate dining experience. So, they are just as suited to romantic meals and cosy breakfasts for two.
As beautiful as they are flexible, our 8 seat extendable dining tables come in a wealth of styles, sizes, materials and colour options. So, if you desire a quality piece of furniture that is uniquely yours, our sophisticated extending dining tables can be tailored to your tastes, lifestyle and space.
And, because we know that you want your handcrafted dining table in place as soon as possible, our made-to-order furniture can be made in around eight weeks.
Our Popular Extending Tables
Our extending dining table range can be tailored to your exact requirements, with a lavish array of finishes and configurations. So they will integrate perfectly into any room. Do you love bold modern industrial styles? Perhaps you prefer the texture and simplicity of natural wood? From luxurious walnut and warm oak, to more contemporary finishes such as ceramic and Fenix, we'll help you find your perfect match.
Looking for something really unique? Many can be made with a contrast between table legs and tabletops, and create striking, eye-catching mixed-material designs for a real statement piece.
Unrivalled Craftsmanship
Built with the highest-quality craftsmanship and passionate about long-term furniture rather than cheap disposable pieces, your 8 seater extending dining table will be made to last generations.

And, with an in-depth knowledge of the principles of furniture design, all our extending dining tables are as functional as they are beautiful.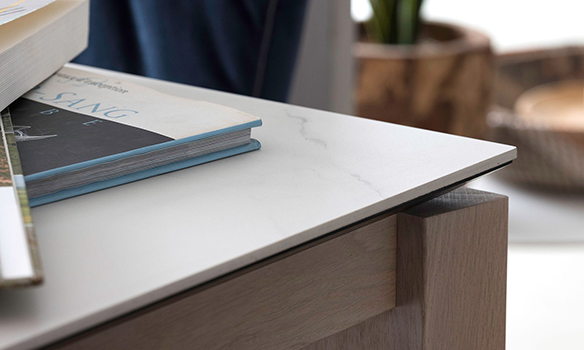 8 Seater Oak Extending Tables
With a rich beauty and texture, our carefully crafted 8 seat oak extending dining tables are made of 100% solid natural timber. So they are both gorgeous and robust.
From traditional designs to more minimal Scandinavian styles, our extending oak dining tables are large enough to accommodate all your guests. Perfect for creating memorable home-dining experiences, there is a reason why oak has been used to make handsome furniture for hundreds of years.
8 Seater Ceramic Extending Tables
Our extending ceramic dining tables are very, very beautiful. Adding excitement and style to your home – whether you love the authenticity of industrial chic or the raw beauty of natural materials - an 8 seat extendable ceramic dining table is for people who dare to be different.
Exceptionally hard-wearing and heat, scratch, water resistant, this inspired dining table material is also ridiculously easy to clean.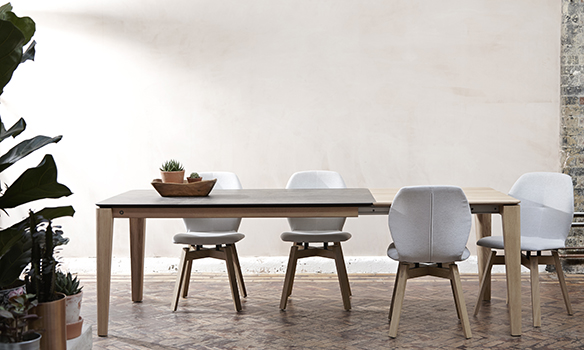 8 Seater Fenix Extending Tables
Using a stunning material that was developed in Italy, a Fenix extending dining table provides a super-matt finish and a soft-touch texture that feels as good as it looks. It also comes in a beautiful collection of strong, contemporary colours – from soft neutral greys to bold greens..
As well as being incredibly tactile, Fenix dining tables are also non-porous and really easy to clean. This makes them perfect for dinner parties and everyday family life.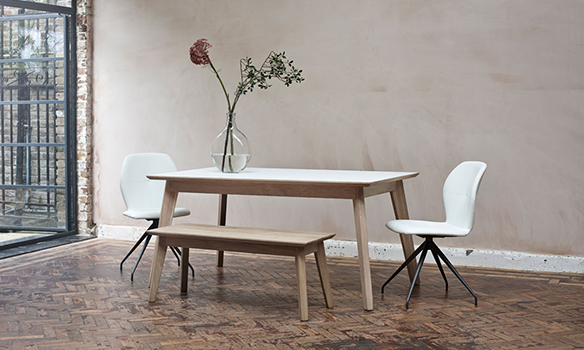 8 Seater Walnut Extending Tables
If you want to make a statement, and impress your dinner guests, an 8-seat walnut extending dining table is hard to beat. Dark, decadent and stunningly beautiful, walnut is the ideal wood for rooms that exude modern sophistication.
Sleek and streamlined, our walnut extending dining tables come in a range of contemporary styles. And, because of the quality of our craftmanship, you can be sure of an authentic and tactile look. Strong, hard and durable, walnut isn't just an indulgent way to make a statement; it's also an investment for life.
Contemporary Dining Chairs
When creating the perfect home dining experience, an 8 seater extending dining table only tells half your story. To complete the narrative, you also need beautiful dining chairs. At Adventures in Furniture, our contemporary dining chairs are stylish and super-comfy. Even after hours of sitting, chatting and entertaining.
Designed with quality, function, detail and durability in mind, we provide a stunning range of materials, fabrics and colours to choose from. And our wonderful Aquaclean fabrics mean you can easily wipe stains away with just water. We also offer ingenious swivel functionality to accommodate your current and future dining needs. So, tell us what you want, and then leave it to us to create your perfect dining chair.