10 Seater Extending Dining Table
If you want a real statement piece, then a 10-seat extending dining table is sure to impress. Perfect for dinner parties and family meals, our extendable options feature a unique roll-out leg system to ensure everyone has a comfortable place to sit. So, you can enjoy the food and conversation in ease and style.
Our modern 10 seater extending dining tables are as practical as they are beautiful. With straightforward and functional mechanisms to extend and fold back at will. So, once the entertaining is over, you can save that all-important space and enjoy a cosier dining experience. And, because we understand the importance of visual appeal, there are no discernible lines or splits in our starting tabletops.
Available in a generous range of styles, sizes, materials and colour options, our stunning 10-seat extending dining tables can also be tailored to your tastes, lifestyle and space. We can even create a contrast between table legs and tabletops, and use striking, eye-catching mixed-material designs that deliver real wow-factor.
And, because we know that you want your handcrafted extending dining table in place as soon as possible, our made-to-order furniture can be produced in around eight weeks.
Beautiful Extending Dining Tables
Designed with family gatherings and home entertaining in mind, we have a selection of beautiful ranges and a generous array of finishes and configurations to choose from. So all our 10-seat extending dining tables can be personalised to your exact requirements.
Whether you love the bold modern look, industrial chic, minimal Scandinavian style, or something a bit more traditional, we'll help to create the perfect 10 seater extendable dining table for you.
Unrivalled Craftsmanship
Handcrafted to the highest of standards, with an in-depth knowledge of sustainable design, we create furniture that lasts. So, at Adventures in Furniture, we provide enduring pieces rather than cheap disposable furnishings.
To ensure your extending dining table stands the test of time, we blend carefully considered design with the highest-quality craftsmanship. And, with ethically sourced and sustainable materials, including FSC-certified timber in some of our designs, used to construct your extending dining table, your furniture is better for the environment too.
Furthermore, as well as raw materials, we also consider the wider environmental impact of our business. And we are constantly looking to raise our game when it comes to things like production, packaging and transportation.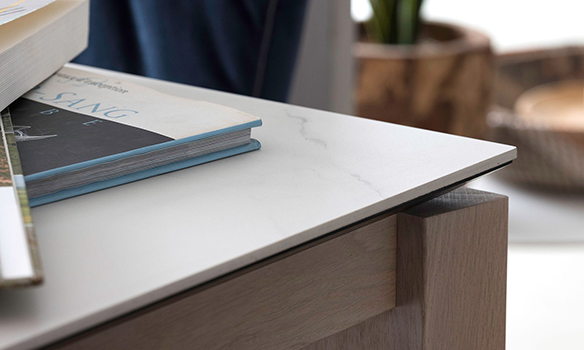 10 Seater Oak Extending Tables
All our extending dining tables are attractive and functional. And, if you want a rich beauty and texture, then oak is hard to beat.
Carefully crafted and made from the highest quality natural timber, our 10-seat oak extending dining tables are both gorgeous and robust. Oozing character and charm, they are not only large enough to accommodate all your guests, but they are also perfect for creating unforgettable family-style home-dining experiences.
From solid traditional, to minimal Scandinavian, and contemporary classic styles, a handcrafted oak dining table will always be the heart of the home. And, whether you use it for dining, reading the Sunday papers, or baking with the family, you can be sure that memories will be created around it.
10 Seater Ceramic Extending Tables
If you love the authenticity of industrial chic or the raw beauty of natural materials, then a ceramic dining table is the perfect choice for you.
All our 10-seat extending ceramic tables are beautiful, of course. But more than that, they are also exceptionally hard-wearing and heat, scratch, water resistant. Therefore, they are perfect for people who crave a combination of style and functionality. And, because we know that life is too short to waste on chores, this inspired dining table material is also ridiculously easy to clean.
A 10-seat extending ceramic dining table is for people who dare to be different. So, if you desire a quality piece of furniture that is uniquely yours, we'll help design the perfect statement piece for you.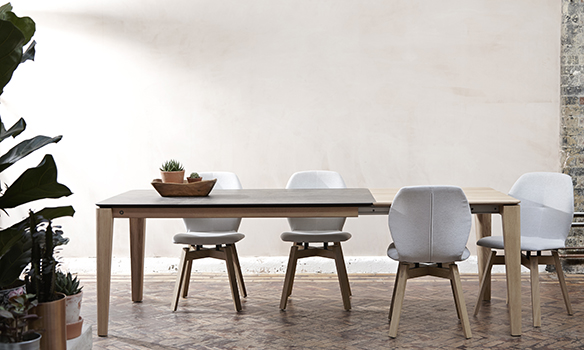 10 Seater Fenix Extending Tables
Fenix is a stunning material that was developed in Italy, and it certainly has that luxurious, understated elegance and sought-after Italian flair.
Available in a stunning collection of strong, contemporary colours, with a soft-touch texture that feels as good as it looks, Fenix is the perfect dining table material.
But that's not just because Fenix looks fantastic – although it undoubtedly does. As well as being incredibly tactile, Fenix dining tables are also ridiculously easy to clean. Consequently, for people who enjoy lively and energetic dinner parties, an extendable Fenix dining table is elegant, versatile and functional.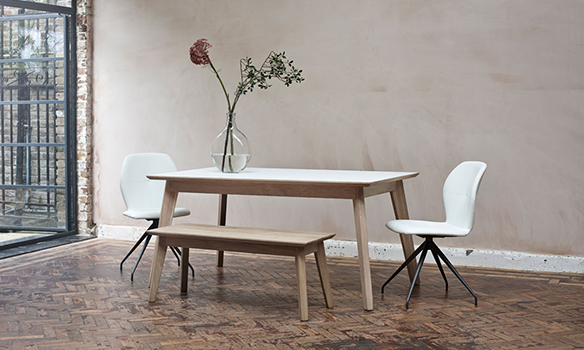 10 Seater Walnut Extending Tables
If you really want to impress your dinner guests, then the sophisticated ambience of walnut will do the job. Dark, decadent and stunningly handsome, a 10-seat walnut extending dining table will add style to any dining experience and space.
Large enough to accommodate all your guests, our extending walnut dining tables are sleek, streamlined and tactile. So they lend richness and depth to your dining space with an aesthetic that is impossible to replicate.
But walnut doesn't just exude modern sophistication; it's also strong, hard and exceptionally durable. So, as well as being an indulgent way to make a statement, because of the quality of our craftsmanship, an extending walnut dining table from Adventures in Furniture is an investment for life.
Modern Dining Chairs
To create the perfect home dining experience, a 10-seat extending dining table, no matter how beautiful, is only part of the picture. To create the perfect mood, you also need complementary dining chairs.
At Adventures in Furniture, we have developed a stunning range of contemporary dining chairs. All of which are designed to work in harmony with our extending dining tables. Some of which come with ingenious swivel functionality. And, with an exquisite range of materials, fabrics and colours to choose from, if you crave a modern, elegant, or original dining space, we have an option to suit every interior, lifestyle and personality.


What's more, as well as being lovely to look at, our modern dining chairs are also fantastically comfortable. Even after hours of sitting, chatting and entertaining.