When it comes to finding sofa shops in London, there are endless options for you to choose from. But if you're searching for that perfect contemporary sofa, then look no further then Adventures in Furniture. We offer an unrivalled range of handmade sofas that are gorgeous in design and built to stand the test of time.
We have two wonderful sofa stores in London, located in Chiswick and Islington. Here, you will find a carefully selected range of our most popular sofas, in various designs, fabrics and colour options. All our sofas are handcrafted using the finest quality materials and can be configured in size, colour, and leg finish. Backed with over 20 years' experience and many happy customers, we pride ourselves on being London's best destination for modern sofas.
Helping you tell your story, we can tailor our beautiful range of contemporary sofas to suit your home, tastes, lifestyle, and personality. Don't buy pre-designed. Instead, create a bespoke, beautiful, lasting sofa that will stand out and show off your unique style.
The possibilities are endless, and the best way to find the perfect sofa is to visit one of our London sofa showrooms. Proud to be different, with a commitment to sustainability, and a passion for authentic design, we will create your made-to-order sofa in around eight weeks and deliver it with care to your home.
Handmade Sofas, Tailored For You
A sofa is one of the most important pieces of furniture you will choose for your home. When you visit our sofa stores in London, you will be supported by our experienced sales team who will help you find the perfect piece. We have a beautiful range for you to consider including practical chaise sofas, comfy sofa beds, elegant 3 seater sofas, and modern corner sofas. If you already know what size you're looking for, then take time to browse our range below.
Custom Sofa Designs
When selecting a sofa with Adventures in Furniture, you're guaranteed a sofa that's unique to you and your home. Take time to review our custom ranges including the Blade sofa, Loki sofa, Tahoe sofa and Hammett sofa. We encourage all customers to personalise their sofas to not only match their living space but also their lifestyles.
Beautiful Corner Sofas
If you are looking for the perfect place to sit back and unwind, then you need a bespoke corner sofa. The ultimate in comfort and style, at Adventures in Furniture, our corner sofas come in an exquisite range of colours and designs. And all our contemporary corner options allow you to make the most of the space in your home.

Designed to allow you and your family to snuggle up or stretch out, many of our corner sofa frames are FSC certified, and all are built using the highest quality craftsmanship. So you can rest assured that our corner sofas don't just look great, they are also supportive and robust.
Furthermore, because it is vital to get it exactly right, we can tailor legs, armrests and cushions to your taste. You carefully select every single detail.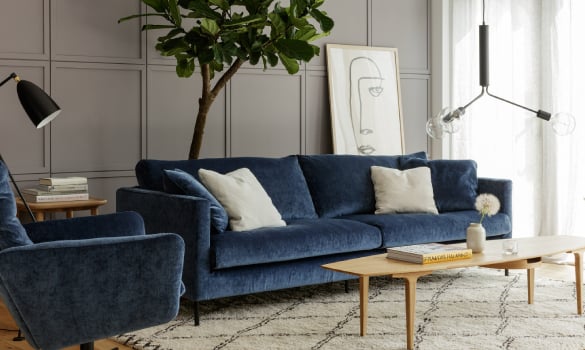 Luxury Bespoke Sofas
At Adventures in Furniture, our beautiful, handcrafted sofas are fit for purpose and personalities. We have a stunning range to choose from, all of which can be configured to you, your preferences, and your home. And our skilled craftsmen create each sofa with care and precision.
Most of our sofas offer a variety of sizes and shapes, from cosy two-seaters to luxurious corner designs. And the very nature of our bespoke sofas means that you can customise many key elements to suit your tastes. From fabric and colour to cushion types and leg finishes, the choice is entirely yours.
Creating a bespoke sofa doesn't have to be complicated, and at Adventures in Furniture, our experienced team will help you design your very own custom-made sofa in just four simple steps. It really is that easy.